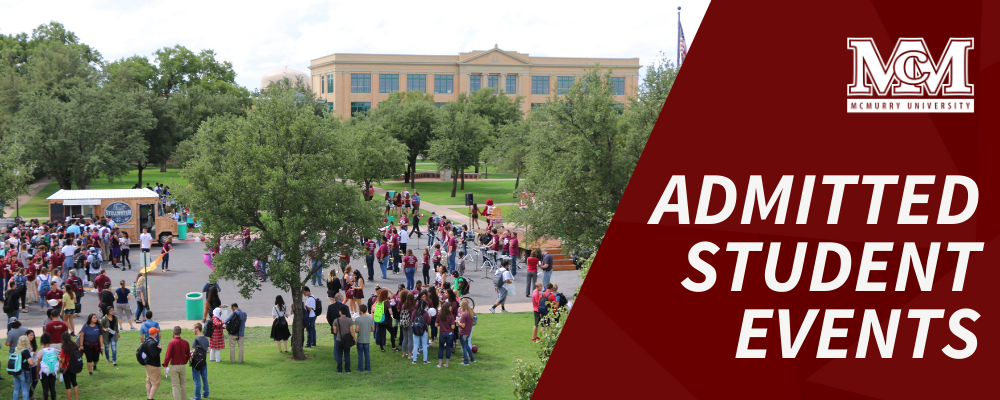 Admitted Student Events are unique opportunities just for students who have been accepted to McMurry. Even if you've already visited campus before, these days will be tailored to help you get a new glimpse of life at McMurry. You'll hear from faculty in mock classes, see inside the residence halls, and learn more about campus life along with a small group of other admitted students. On-campus event seats are limited, so save your spot now!

If you aren't able to visit campus, or even if you are, Virtual Admitted Student Events are also available. These events will give you a chance to meet other students deciding on McMurry, hear a virtual mock class, and learn from campus offices such as Residence Life. Choose your Virtual Admitted Student Event below!
Tentative Schedules
 
On-Campus

Virtual

9:00 - Welcome
9:30 - Begin Tour
9:45 - Spiritual Life / Campus Traditions
10:00 - Mock Class
10:45 - Mock Lab / Parent Session
11:15 – Student Life
11:30 - Residence Life / Room Tour
12:00 - Lunch
1:00 - Send-Off
Thursday
  8:00pm - 2021 Class Hang Out
  9:00pm - Mock Class
Friday
  8:00pm - Residence Life / Room Tour
  9:00pm - 2021 Class Hang Out
Saturday
  10:00am - Parent Session
  2:00pm - Next Steps
  3:00pm - Current Student Roundtable 
Please note that due to the COVID-19 pandemic, specific guidelines for on-campus visits are being followed to protect the health and safety of our campus community along with you and your family, including limiting the number of guests, social distancing, and the wearing of masks at all times. You will also be sent a health screening survey the day before your visit. To read our campus's latest updates and responses to the pandemic, click here.